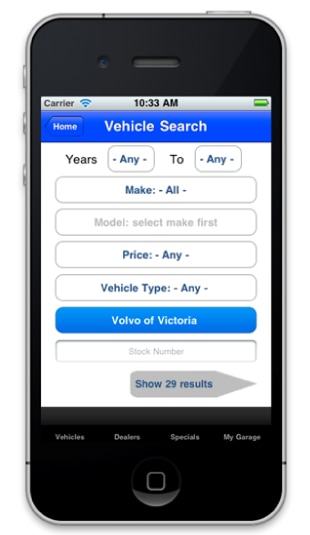 The wait is almost over for our much anticipated iPhone App!
We are aiming to redefine convenience as we bring the largest inventory of select pre-owned vehicles in BC to your fingertips. Quick loading searches, high resolution images, and one touch access to additional information are just some of the features you'll be able to enjoy.
But that's not all this app has to offer. Save your favourite vehicles to 'My Garage' to keep all of your top choices in one convenient location. Share these with a friend, ask for more information, or even make an offer - all in just moments.
One of these vehicles sell? No problem! You're just one tap away from finding all the closest matches from our huge inventory of select pre-owned vehicles.
Ready to take your favourite for a spin? We've got you covered! Turn by turn directions are available to all of our dealerships from wherever you might be.
When looking for your next vehicle, you can take our entire inventory with you wherever you go. Keep up to date on our freshest inventory and look for vehicles when you want, how you want. Your shopping experience should be all about YOU, and our goal is to make that experience as easy and stress-free as possible.
Check back soon ... and get your fingers ready!